Embryo freezing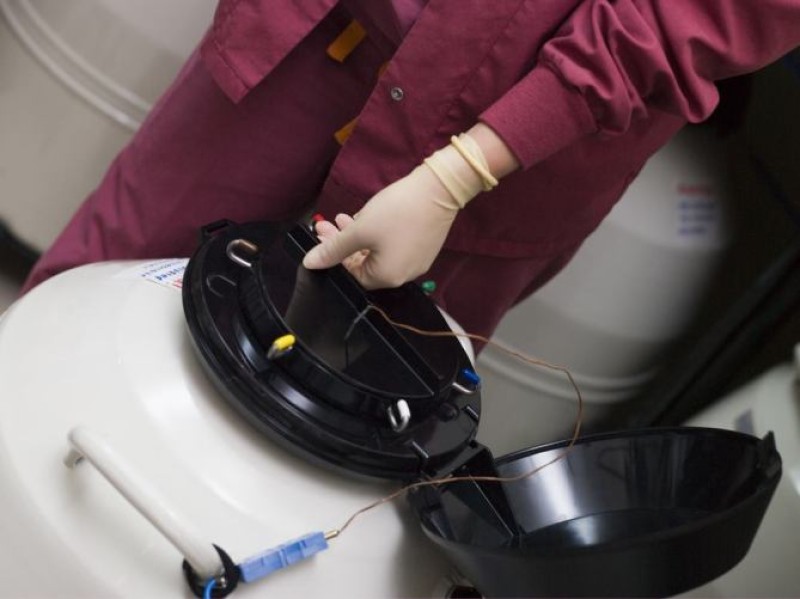 Often after the completion of a cycle of IVF or ICSI, there are a number of successfully fertilized embryos that we can freeze and store for your future use.
Whether your cycle was successful or unsuccessful, frozen embryo transfer gives you another chance of pregnancy from the initial egg collection with reduced costs and without having to go through an egg collection procedure again.
The pregnancy and live birth rates at Bedaya Hospital for frozen embryo transfer are the same as for the initial fresh embryo transfer.
The embryologist will decide if any of your embryos are suitable for freezing. The selected embryos need to be of good quality as poor quality embryos do not survive the freezing/thawing process. Embryos can be frozen at various stages of the developmental process. This can occur at around day 2, when there are around 4 cells that make up the embryo all the way up to day 5 or 6 which is the blastocyst stage. Embryos can be stored in frozen conditions for up to ten years.
When you start the process for a frozen embryo transfer procedure, our clinical staff at Bedaya will first monitor your cycle closely in order to ensure that the uterus is at the best stage for embryo transfer. It may be required that you take certain medication that help build up the lining of your uterus to prepare it for implantation or at the time you may in the middle of a natural cycle where your uterus is already lined and ready for transfer.
The embryos are then transferred into the uterus using a catheter and injected through the catheter directly into the uterus. After approximately 2 weeks you can take a pregnancy test to test if the transfer was successful and you are indeed pregnant!
It is important to note that occasionally embryos do not survive the freezing/thawing process.
All required Consent forms for storage of embryos for use at a later time will be signed at Bedaya Hospital when you arrive.
Oncology Patients
Over the last two decades we have developed a fast track pathway for oncology patients who are about to undergo chemotherapy or radiotherapy and wish to freeze their eggs or sperm to preserve their fertility as timing in these situations is essential. In these situations we make sure that you see our medical consultant or embryologist within 48 hours of contacting us. At Bedaya, we understand the stress you must be experiencing at this time and will do what we can to make sure the process is as comfortable and stress-free as possible.
For women, the egg freezing process takes between 12 and 14 days from the day of starting ovarian stimulation all the way up to egg collection. We have developed comprehensive and efficient protocols to make sure that the stimulation process starts without delay, regardless of the day of your cycle. This way there is no unnecessary delay of your chemotherapy treatment.

For men, the sperm can be frozen on the same day as their visit. If required, we also provide services for alternative methods of sperm collection.