Penile fibrosis or peyronie's disease is a condition in which scar tissue formation (called plaque) occurs under the skin of the penis. The fibrosis causes loss of tissue elasticity causing dyspareunia which is painful or uncomfortable sex. Other symptoms or complaints that rise due to penile fibrosis are Fibrous nodules (plaques), curvature or deformation of the penis., painful erections, erectile dysfunction. These issues can cause frustration and irritation within a relationship due to infrequent, uncomfortable sex or a complete lack of sex due to embarrassment on the male's behalf about a possible penile curvature or deformation of the penis. In some cases, Peyronie's disease or penile fibrosis is self-limiting and does not require medical intervention or surgery but, in most cases, eventually medical intervention is required.
Penile fibrosis
Bedaya Hospital provides excellent doctors for diagnosis and treatment of penile fibrosis no matter the stage of the disease you are in. Bedaya Hospital does however advice your tot seek medical help as soon as you feel lumps under the skin of the penis shaft, a penile curvature while being erect that wasn't previously the case, or when you experience minor pain of discomfort during sexual intercourse. Penile fibrosis has an underlying genetic predisposition but trauma or bruises to the penis can also set it off.
Penile fibrosis symptoms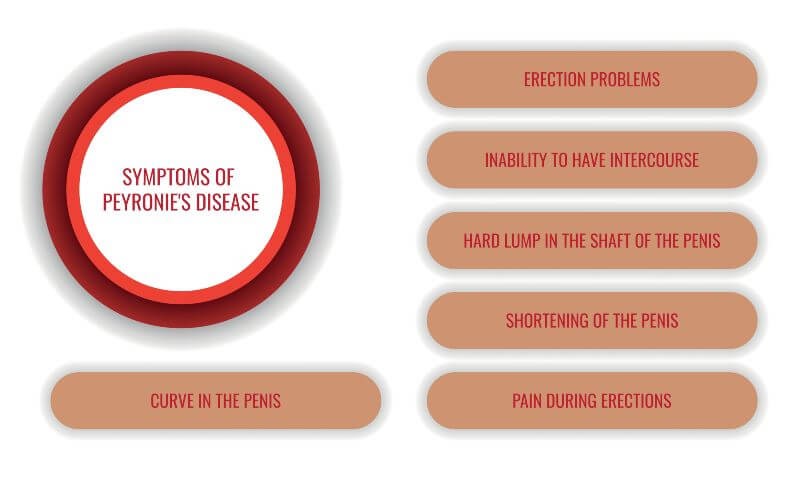 There are many penile fibrosis symptoms that indicate the presence of fibrosis in the penis. In fact, Peyronie's disease is a disease with obvious symptoms that can easily be detected by the patient so medical assistance can be sought after at an early stage preventing the disease of exacerbating fast. Its symptoms include the following
Pain during sexual intercourse which can range from a mild discomfort to a pain so severe it prevents completion of the act.
Pain during an erection of the penis and/or failure to maintain an erection for a good period (Erectile Dysfunction)
A Curvature of the penis that wasn't previously there, a deformation of its shape, and shortening of its length.
Lumps under the skin that indicate tissue fibrosis.
neglecting the disease will lead to complications and deformations that might make treatment more difficult.
There are two stages in Peyronie's disease;
Acute stage; This phase lasts between 6-12 months scar tissue plaques form underneath the skin of the penile shaft causing lumps a curvature of the penis when erect and painful erections
Chronic stage: The formation of fibrous (scar tissue) plaques under the penile skin come to a halt and the pain during an erection comes less, however erectile dysfunction might occur due to the formed plaques in the acute phase.
Penile fibrosis treatment
penile fibrosis treatment is determined according to the patient situation which includes:
Pharmacological treatment: studies have shown that a combination of phosphodiesterase type 5vinhibitors and selective estrogen receptor modulators were effective in limiting the formation of fibrosis thus preventing erectile dysfunction or impotence due to the formation of plaques in the penis.
penile fibrosis surgery or penile correction is often resorted to if medication does not work to limit the scar tissue formation or of the forming of it is not self-limiting. There are several approaches for this surgery and your surgeon will determine which type is most suitable for your case. The main goal is to remove the fibrous plaques, and repair deformities or unnatural curvatures of the penis.
A penile prosthesis can be inserted to treat penile fibrosis if patients do not respond to conservative medical therapies, or the plaque formation is so severe that there is a permanent erectile dysfunction or impotence. The plaque formation can make this a challenge for even the most experienced surgeons. Bedaya Hospital offers you the best team of urologist surgeons to complete this surgery successfully with satisfactory results.